marrionberry
Showing all 3 results
Autumnal Basket
A basket overflowing with the abundance of Northwest harvests.
1.85 oz Chukar Dried Cherry and Pistachio Mix
2 oz Partners Crackers
4.5 oz Kaserei Camembert (the only non- Northwest food in this basket)
3.5 oz Biringer's Cookies
4 oz Uncle Woody's Caramel Corn
2.75 Chukar Chocolate Covered Dried Cherries
1.5 oz Chukar Dried Apple Slices
in a reusable basket, wrapped in cellophane and topped with a paper raffia bow
$40.00
Add to cart
NW Breakfast Shipper (free shipping!)
Shipping is included in this Northwest breakfast shipper. We love breakfast for dinner, too!
18 oz Fisher Scone Mix
12 oz Partners Harvest Fruit Granola
24 oz Snoqualmie Falls Lodge Pancake and Waffle Mix
16 oz Bob's Organic Oatmeal
2 oz Caffe Appassionato Coffee
8 oz Maury Island Farms Marionberry Dream Topping (for the pancakes and waffles)
5.5 oz Maury Island Farms Blackberry Raspberry Jam
1.85 oz Chukar Triple Cherry Nut Mix (We chop it and add to the oatmeal before cooking.)
.85 MarketSpice NW Breakfast Tea (10 teabags)
Shipped in a USPS Flat Rate box with red tissue paper and a red bow on the inside.
$55.00
Add to cart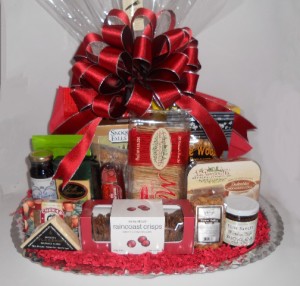 Grand Celebration
An assortment of delicious gourmet foods are presented on a 19-inch by 12½-inch hammered platter—a lasting reminder of the delicious gift you sent. You are welcome to choose another color for the bow and paper "sizzle." We typically use a gold and silver bow and kraft paper "sizzle."
9 oz Boat Street Pickled Figs
6 oz Cranberry Hazelnut Raincoast Crisps
4.5 oz  Kaserei Champignon Camembert Cheese
24 oz  Snoqualmie Falls Lodge Pancake and Waffle Mix
11 oz Maury Island Farms Marrionberry Dream Topping
2.75 oz Chukar Truffle Cherries
7 oz Garvey's Toffee Peanuts
10 oz La Panzanella Dolcetini Cookies
6 oz  Chukar Triple Cherry Nut Mix
4 oz Uncle Woody's Caramel Corn
9 oz Athenos Roasted Garlic and Herb Baked Pita Chips
7.2 oz Snack Factory Pretzel Crisps
10 oz Dan the Sausageman Summer Sausage (beef and pork)
5.3 oz La Panzanella Croccantini Crackers
8 oz Caffe Appassionato Organic French Roast Coffee
Hammered serving platter
$150.00
Add to cart