chocolate caramel grahams
Showing all 3 results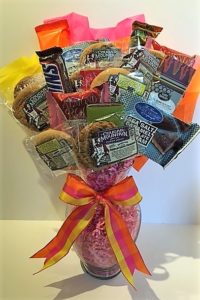 Candy and Cookie Bouquet
We can customize a candy and cookie bouquet however you like. The bouquet shown is $40 and has a variety of candy bars, Almond Roca, chocolate caramel covered grahams, and assorted flavors of Cougar Mountain cookies. Many of the items are made in the Northwest. Local delivery bouquets are in a glass vase. Shipped bouquets will be in a metal container. Call or email us to customize a bouquet. Or enter customization under "order notes" during checkout. We can make bow color and tissue paper color match school colors.
$25.00

–

$50.00
Select options
Sweet Heart
Dilettante truffle cremes, The Pacific Dessert Company Chocolate Caramel Grahams, and a hand made glass heart. Select a red or pink heart. Call us to customize. This is a sweet gift for your sweetheart, mother,a friend, child or grandchild.
$33.00
Select options
Seattle Chocolate Sampler Basket
Seattle is known for many things, including delicious chocolate. We assembled a variety of chocolate, both milk and dark to represent many of the local chocolate manufacturers. Call us to customize a chocolate gift.
Seattle Chocolates Truffles in Ferry Box 4 oz
Seattle Chocolates Truffles in Space Needle Box 2.5 oz
The Famous Pacific Dessert Company Chocolate Caramel Grahams 10 oz
Theo Organic Bar-Milk 3 oz
Theo Organic Bar-Dark 3 oz
Yukon Jackson Turtles 4 oz
Dilettante Coffee Trio Truffle Cremes 5 oz
Chukar Truffle Cherries (chocolate covered dried cherries) 7.5 oz
$65.00
Add to cart