Fruit and Wine Gift Basket (Local Delivery Only)
Washington wine, fresh fruit, cheese and crackers.
Two Vines Cabernet Sauvignon- We will upgrade the wine for higher priced baskets. Indicate in "order notes" if you prefer white wine or champagne instead of red.
Assorted fresh fruit- amount varies, depending on basket size
Beechers Flagship Cheese (not shown in photo)
2 oz Partners Crackers or lager for larger baskets
$55 basket is shown. Call to customize or for other sizes.
Wrapped in cellophane and topped with a bow.
You may also like…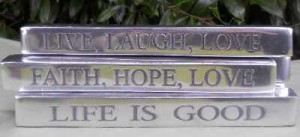 Inspirational Paperweights
These inspirational paperweights are a wonderful small gift to have on hand. Pick them up at our shop in Sammamish (east of Seattle), or we can deliver them to you. The paperweights are also a nice addition to any gift basket. Please select the paperweight you want, or order a few to stash in your gift closet.
$13.00
Select options
Fran's Salted Caramels (shipping included)
A beautiful gift box of Fran's award winning salted caramels in both milk and dark chocolate. Price includes shipping anywhere in the US. Local, same day delivery incurs our regular delivery charges.
6 oz Fran's Salted Caramels, 10 in dark chocolate with gray salt and 10 in milk chocolate with smoked salt
Price includes shipping them in a USPS small flat rate box that ships anywhere in the US in 2-3 days.
$38.00
Add to cart
Seattle Ceramic Boxes
Our Seattle boxes are hand painted ceramic, similar to those hand painted in Limoges, France. Each box is about 2.5 inches long with a fun ceramic keepsake in each one, shown in front. If you order this and a gift basket, we will incorporate it into basket.
$6.50
Select options