Since 1991, Accents et cetera has been creating fabulous gift baskets. We are a woman-owned family business. Susan Huenefeld has been the owner and manager since 2001. After over ten years in the same location in downtown Redmond (next to Ashleigh's Attic, Redmond Vacuum and Victor's Coffee Shop), we moved to a larger space. Our new retail store and workshop in Sammamish, as well as our online store, can better serve you seven days a week.
Our vendors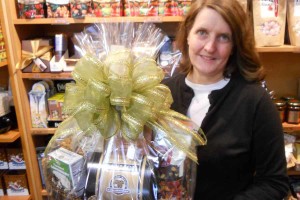 The vendors are mostly small, local businesses, which means we have many products that are not available elsewhere. We taste and try everything we carry, so we know it is good. We appreciate food that is healthy and delicious. We also prefer generous sizes, so that our baskets have enough food for your gift recipients to enjoy.
Accents et cetera charity fundraising
We donate a significant amount of money, time, gift baskets, and food to local charities, including Hopelink, St Thomas Church, Children's Hospital, Sophia Way, Congregations for Homeless, and many churches, schools and other organizations. Please call us if you are interested in having an Accents et cetera fundraiser for your favorite organization.
We are members of the Sammamish Chamber of Commerce and Women Business Owners.
We look forward to meeting you!
–Susan Huenefeld and staff
Testimonials
Many customers have sent us notes of appreciation. Below are excerpts from just a few.
"OMG…its stunning!! 🙂 How happy would you be to receive a basket like that? It's just so lovely! THANK YOU. Thank you for making us look so good!" – Gracie
"You guys are AWESOME!! I refer everyone here to you for their gift basket needs!" – Megan
"It is such a pleasure to work with someone who is always willing to go the extra mile and we certainly appreciate all your help and efforts." – Lori
"Thanks for your help on those packages to France. They were a huge hit! I have passed your contact info to our CEO's assistant…for future use." Kate
"We just received our order and wanted to thank you for such a great service! Our order came so fast and it was packed so nicely. We also love the salmon…we look forward to placing an order again soon!" – Nikki
"You are so good to us!…I've always got you in mind for any gift basket needs." – Ryan
"Hi, Susan. Just thought I'd let you know what my sister said about your gift basket:'The gift basket is wonderful. Thanks so much-a great selection of nice things, much better than other gift baskets I see.'" – Laurie
"Thank you so much for doing a great job! My boss was thrilled, our customers were thrilled…therefore I am thrilled. Ordering 'blind' can be scary, especially when it is for something so important. I had such a positive experience with you, I'll be using you again." – Carrie
"I just wanted to pass on a very special thank you…Not only was Susan able to piece together all the necessities for the die hard running enthusiast, she found a literal library of reading material and managed to send this all out in record time…I have no doubt (the candidate) will be accepting his offer…and your hard work at Accents et cetera had a large part to do with this result…" – Mike
"Thanks so much for following up-this is exactly what I wanted to know. I'm so impressed that your're able to take care of them the same day! Amazing!." – Jared
"I don't know what we would do without you guys!" – Amy
We would love to hear from you…what did we do well and what can we improve?
Awards
In 2005 and 2006, Accents et cetera was selected as one of the top 50 American gift basket businesses by Gift Basket Review Magazine.
In 2007, Rave Reviews magazine selected Accents et cetera as a top 100 gift basket business.
From 2008-2016, we have received the "Best Workplaces for Recycling and Waste Reduction" award annually from King County.
In 2010, Owner Susan Huenefeld was presented the Women Business Owners Excellence Award.
In 2012, we received the "Small Business, Big Commitment " Award in the Eastside Green Business Challenge.
Environmental Notes
While nice looking packaging is important to making our gift baskets look good, we consistently utilize environmentally conscious products and packaging materials.
We specifically look for foods with quality ingredients, free from trans-fats, hydrogenated oil, and artificial colors, preservatives and additives. We carry many natural and organic foods.
We use recycled content products (vases, tissue paper, boxes, ribbon), recyclable and compostable packaging (biodegradable cellophane, tissues paper, boxes) and reusable items (containers such as ceramic bowls, bows, packing materials).
The spa line we carry is made with organic and natural ingredients and is in recyclable and reusable packaging.  We have stuffed animals made entirely out of recycled plastic water bottles. Gift containers include canvas bags, bamboo plates, baskets placed inside a European string shopping bag, and pots made from recycled cornhusks.
Additionally, we provide emailed invoices and receipts, print double sided, have an online instead of a print catalogue, reuse boxes and packing materials, recycle paper, plastic, and glass, and compost paper towels, tissues, floral and food scraps. Most of our lighting is compact fluorescent and LED, and we turn off all of our lights and computers at night to save energy. Around the office and store, we use 100% recycled content copy paper, and 100% recycled content bathroom tissue, paper towels, and facial tissues. We are continually finding other ways to reduce waste and energy and we welcome your suggestions.
Being environmentally responsible is essential. We promise to provide gifts that are not only delicious and beautiful, but also gentle to the planet. Even though most eco friendly options wholesale for more than other products, we are committed to having affordable gift options that have a smaller carbon footprint.