Yukon Jackson
Showing all 3 results
Seattle Chocolate Sampler Basket
Seattle is known for many things, including delicious chocolate. We assembled a variety of chocolate, both milk and dark to represent many of the local chocolate manufacturers. Call us to customize a chocolate gift.
Seattle Chocolates Truffles in Ferry Box 4 oz
Seattle Chocolates Truffles in Space Needle Box 2.5 oz
The Famous Pacific Dessert Company Chocolate Caramel Grahams 10 oz
Theo Organic Bar-Milk 3 oz
Theo Organic Bar-Dark 3 oz
Yukon Jackson Turtles 4 oz
Dilettante Coffee Trio Truffle Cremes 5 oz
Chukar Truffle Cherries (chocolate covered dried cherries) 7.5 oz
$65.00
Add to cart
Edible Elegance
This simple yet elegant gift presents an array of delicious snacks on a gold charger along with a bottle of champagne, wine, or sparking juice. Your choice of beverage determines the price. The option with non-alcoholic cider contains more food.
---
Please note that we are unable to ship alcohol outside Washington state. For shipments to other states, we will substitute non-alcoholic cider and more food.
---
By ordering this basket with champagne or wine, you are certifying that both you and the gift recipient are 21 years or older. Please see our Beer and Wine policy on the
Ordering & Delivery page
, for information about ordering beer and wine through our website.
2 oz Alaska Smokehouse Smoked Salmon Fillet
8 oz The Bread Dip Company Olive And Herb Tapenade
6 oz La Panzanella Croccantini Crackers
3.2 oz Uncle Woody's Truffle Salt Popcorn
8 oz Nunes Farms Mixed Nuts
4 oz Yukon Jackson Chocolate Turtles
3.5 oz Biringer's Cookies
4.5 oz Kaserei Champignon Camembert Cheese
750 Ml Bottle of Veuve Cliquot Champagne, Domaine Ste Michelle Sparkling Wine, Martinelli's Sparkling Cider(non alcoholic), Ste Michelle Chardonnay, Ste Michelle Indian Wells Cabernet Sauvignon
A Gold Charger
$80.00

–

$125.00
Select options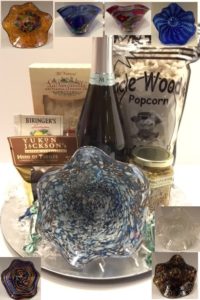 Sparkling Celebration Gift Basket
Give a festive gift from the Northwest. Choose a Glass Eye Studio bowl, handblown in Ballard. (Colors listed starting with the bowl in the main picture and then clockwise from the top.) This is available for local delivery in the Greater Seattle area. For something simliar to ship or for custom orders, please call us. Topped with  a silver or gold bow, depending on the bowl selected.
Your choice of Glass Eye Studio Bowl
Chateau Ste Michelle Sparkling Wine
Yukon Jackson Chocolate Turtles 4 oz
Biringer's Lemon Cookies 3.5 oz
La Panzanella Croccantini 5.3 oz
Uncle Woody's Truffle Salt Popcorn 4 oz (the savory kind of truffle!)
Artichoke and Caper Bread Dip and Tapenade 8 oz
four Seattle Chocolates Truffles
on a silver or gold charger, wrapped in cellophane and tied with a bow
$100.00
Select options