wine
Showing all 3 results
"basket price" is a required field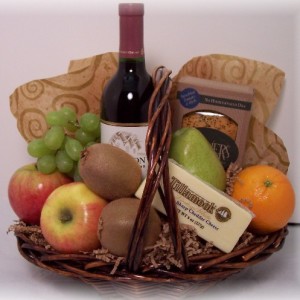 Fruit and Wine Gift Basket (Local Delivery Only)
Washington wine, fresh fruit, cheese and crackers.
Two Vines Cabernet Sauvignon- We will upgrade the wine for higher priced baskets. Indicate in "order notes" if you prefer white wine or champagne instead of red.
Assorted fresh fruit- amount varies, depending on basket size
Beechers Flagship Cheese (not shown in photo)
2 oz Partners Crackers or lager for larger baskets
$55 basket is shown. Call to customize or for other sizes.
Wrapped in cellophane and topped with a bow.
$45.00

–

$100.00
Select options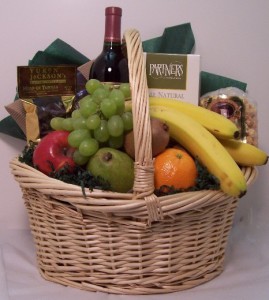 Large Fruit and Wine Gift Basket (Local Delivery Only)
A large basket filled with fresh fruit, wine and assorted Northwest gourmet foods. You are welcome to select any combination of food for this or any other basket.
Chateau Ste Michelle Indian Wells Cabernet Sauvignon or call to select a different wine
4 oz partners Crackers
2 oz Alaska Smokehouse Smoked Salmon Fillet
4 oz Yukon Jackson Chocolate Turtles
4 oz Uncle Woody's Caramel Corn
Assorted fresh fruit
Call or let us know in the "Order Notes" during checkout if you want us to customize the contents.
$100.00
Add to cart
Northwest Wine, Cheese and Gourmet Gift
We found some of the most gourmet Northwest foods and combined them to create this special gift. Want to customize this gift? We can create something similar to fit your needs; just give us a call.
Chateau Ste Michelle Indian Wells Cabernet Sauvignon 750 ml
Chateau Ste Michelle Chardonnay 750 ml
Beechers Flagship Cheese (approx. 4-6 oz)
Mt Townsend Creamery Cirrus Camembert Cheese 5 oz
Rogue Creamery Oregon Blue Cheese 3.5 oz
Olympia Provisions Saucisson Sec (pork salame approx. 4 oz)
La Panzanella Croccantini 6 oz
Wild Sockeye Smoked Salmon 8 oz
Pepper Jack Moon Cheese 2 oz
3 Sisters Uncured Grass Fed Beef Pepperoni 4 oz
Boat Street Pickled Figs 9 oz
Cranberry and Hazelnut Raincoast Crisps 5.3 oz
Nunes Farms Mixed Nuts 8 oz (from California)
On a Bamboo Serving Board 9.5 inches by 13 inches
wrapped in cellophane and topped with a bow
$150.00
Add to cart