scone
Showing all 2 results
View Cart
"Family Gathering Gift" has been added to your cart.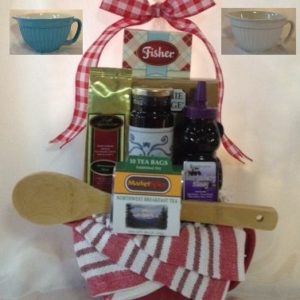 Breakfast in a Batter Bowl
A ceramic batter bowl, in your choice of color, filled with NW favorites for making breakfast or breakfast for dinner.
18 oz Fisher Scone Mix
24 oz Snoqualmie Falls Pancake and Waffle Mix
2 oz Caffe Apassionato Coffee
.85 oz MarketSpice NW Breakfast Tea (10 tea bags)
11 oz Maury Island Farms Blueberry Jam (not the honey pictured)
11 oz Maury Island Farms Marionberry Dream Topping
a Cotton Kitchen Towel (we will coordinate towel color with bowl color)
a Bamboo Spoon
a Ceramic Batter Bowl, choose red, white, or aqua
$70.00
Select options
Family Gathering Gift
A beautiful embossed copper container filled with both sweet and savory gourmet food.
10 oz La Panzanella Dolcetini Cookies
4.5 oz Macy's Asiago and Cheddar Cheese Crisps
1.5 oz  Chukar Dried Apple Slices
18 oz Fisher Scone Mix
2 CBs Pumpkin Seeds
7.5 oz Chukar Chocolate Covered Dried Cherries
11 oz Maury Island Farms Marrionberry Preserves
4.4 oz Barnier French Country Olives
4 oz Yukon Jackson Chocolate Turtles
6 oz La Panzanella Croccantini Crackers
6.5 Canterbury Naturals Chicken Noodle Soup Mix
4.5 oz Kaserei Champignon Camembert Cheese
4 oz Partner's crackers
4 oz Uncle Woody's Caramel Corn
12 oz Partners Apple Cinnamon Granola
24 oz Cucina Fresca Marinara
12 oz Pasta Mama's Fettuccine
wrapped in cellophane and topped with a bow-shown with a fall colored bow. Please let us know your preferred bow color.
$150.00
Add to cart