popcorn
Showing all 2 results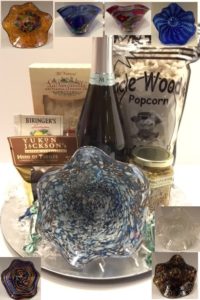 Sparkling Celebration Gift Basket
Give a festive gift from the Northwest. Choose a Glass Eye Studio bowl, handblown in Ballard. (Colors listed starting with the bowl in the main picture and then clockwise from the top.) This is available for local delivery in the Greater Seattle area. For something simliar to ship or for custom orders, please call us. Topped with  a silver or gold bow, depending on the bowl selected.
Your choice of Glass Eye Studio Bowl
Chateau Ste Michelle Sparkling Wine
Yukon Jackson Chocolate Turtles 4 oz
Biringer's Lemon Cookies 3.5 oz
La Panzanella Croccantini 5.3 oz
Uncle Woody's Truffle Salt Popcorn 4 oz (the savory kind of truffle!)
Artichoke and Caper Bread Dip and Tapenade 8 oz
four Seattle Chocolates Truffles
on a silver or gold charger, wrapped in cellophane and tied with a bow
$100.00
Select options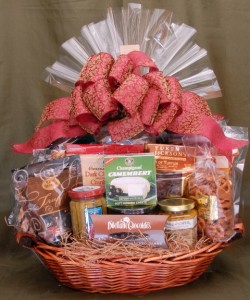 Deluxe All Occasion Gift Basket
A large assortment of sweet and savory snack foods for an office, family or friends.
4.5 oz Kaserei Champignon Camembert Cheese
7.2 oz New York Style Sea Salt Bagel Crisps
1.5 oz Chukar Dried Apple Slices
4 oz Erin's White Cheddar Popcorn
6.5 oz Partners  Mia Dolce Chocolate Vanilla Swirl Cookies
5 oz Dilettante Ephemere Chocolate Truffles,
6 oz Multigrain La Panzanella Croccantini,
4.5 oz Macy's Cheddar and Asiago Cheese Sticks
7.5 oz Chukar  Chocolate Covered Dried Cherries
Olympia Provisions Saucisson Sec pork salame (Contact us to substitute all beef pepperoni instead or some other food item)
4.4 oz Barnier French Country Olives
12 oz Tillen Farms Pickled Asparagus,
8 oz The Bread Dip Company Artichoke and Caper Tapenade
7 oz Garvey's Toffee Peanuts
4 oz Yukon Jackson's Chocolate Turtles
Eight 1 oz Cougar Mountain Cookies in assorted varieties
7.5 oz Chukar Chocolate Covered Honeyed Pecans
8 oz Nunes Farms Mixed Nuts
Wrapped in cellophane and topped with a bow-shown with a Christmas colored bow. Please let us know your bow preference.
$150.00
Add to cart