pickled figs
Showing all 2 results
View Cart
"Grand Celebration" has been added to your cart.
Northwest Gourmet Pantry Shipper (includes Free Shipping!)
Give the experience of tasting a variety of Northwest specialty products. A delicious assortment of sauces, rubs, ingredients, and accompaniments to take meals to a new level. Price includes 2-3 day shipping anywhere in the US.
3.5 oz Tom Douglas Rub With Love Salmon Rub
8 oz The Bread Dip Company Artichoke and Caper Tapenade
13.5 oz Umami 33 Sweet and Spicy Grill Sauce
9 oz Boat Street Pickled Figs
12 oz Mama Lil's Peppers
Ships in a USPS flat rate box with red tissue and a red bow, or let us know your preferred colors. Call us for this combination in a basket or for local delivery.
$62.00
Add to cart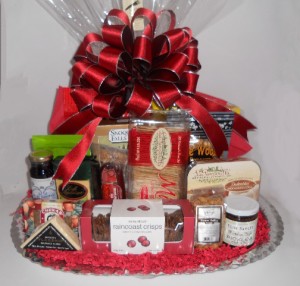 Grand Celebration
An assortment of delicious gourmet foods are presented on a 19-inch by 12½-inch hammered platter—a lasting reminder of the delicious gift you sent. You are welcome to choose another color for the bow and paper "sizzle." We typically use a gold and silver bow and kraft paper "sizzle."
9 oz Boat Street Pickled Figs
6 oz Cranberry Hazelnut Raincoast Crisps
4.5 oz  Kaserei Champignon Camembert Cheese
24 oz  Snoqualmie Falls Lodge Pancake and Waffle Mix
11 oz Maury Island Farms Marrionberry Dream Topping
2.75 oz Chukar Truffle Cherries
7 oz Garvey's Toffee Peanuts
10 oz La Panzanella Dolcetini Cookies
6 oz  Chukar Triple Cherry Nut Mix
4 oz Uncle Woody's Caramel Corn
9 oz Athenos Roasted Garlic and Herb Baked Pita Chips
7.2 oz Snack Factory Pretzel Crisps
10 oz Dan the Sausageman Summer Sausage (beef and pork)
5.3 oz La Panzanella Croccantini Crackers
8 oz Caffe Appassionato Organic French Roast Coffee
Hammered serving platter
$150.00
Add to cart