pickled asparagus
Showing all 3 results
Large Slice of Washington
We added a few more locally made foods to expand our Slice of Washginton gift. A
smaller version is available.
 Want to customize this with your corporate colors? Call us!
approx 5 oz Beecher's Flagship Cheese (4.5 oz Kaserei Camembert for ground shipped gifts)
5.3 oz La Panzanella Croccantini Crackers
1.5 oz Pop Gourmet Popcorn
4 oz Uncle Woody's Caramel Corn
4 oz Alaska Smokehouse Wild Sockeye Salmon
12 oz TillenFarms Pickled Asparagus
2.75 oz Chukar Chocolate Covered Dried Cherries
6 oz Chukar Triple Cherry Nut (dried cherries and nuts)
8 oz The Bread Dip Company Olive and HerbTapenade
4-2 oz Cougar Mountain cookies (chocolate chunk, ginger molasses, oatmeal raisin, lemon snickerdoodle) not the same as the cookies in the photo
salmon-shaped cheese spreader
$100.00
Add to cart
Washington's Finest Gift Basket (free shipping!)
A veritable smorgasbord of Seattle, Washington and Northwest made foods. Shown in red, green baskets are also available. Want to customize this or any other gift, give us a call, any time.
Smoked Sockeye Salmon 4 oz
Pepper Jack Moon Cheese 2 oz
Partners Crackers 4 oz
Chukar Triple Cherry Nut MIx (no sugar added) 6 oz
Canterbury Naturals Chicken Noodle Soup Mix
Tillen Farms Pickled Asparagus
Uncle Woody's Caramel Corn 4 oz
Chukar Apple Slices 1.5 oz
Caffe Appassionato Coffee 2 oz
Chukar Cocoa Pecans 7.5 oz
Seattle Chocolate Truffles in Space Needle Box 2.5 oz
Biringer's Cookies 3.5 oz
MarketSpice Tea .85 oz (10 tea bags)
$100.00
Add to cart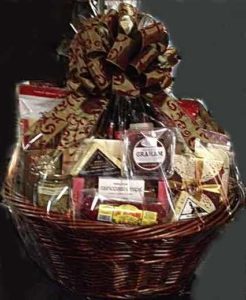 Best of the Northwest Gift Basket
The best of the Northwest: a gift so large it fills an enormous basket. The following list is what we can include in a $350 size basket. Please conatct us to customize the gift to your needs. You can choose the bow colors and style, as well as the specific food contents.
One pound Alaska Smokehouse Wild Sockeye Smoked Salmon
5 oz (approximate) Beecher's Flagship Cheese
10 oz box Dilettante Ephemere Truffles
5.3 oz La Panzanella Croccantini Crackers
12 oz Boehm's Truffle Fudge Sauce
9 oz Boat Street Pickled Figs
11 oz Maury Island Farms Marionberry Jam
Half pound of Caffe Appassionato Organic Coffee
8 oz The Bread Dip Company Artichoke and Caper Tapenade
6 oz gift box of Fran's Salted Caramels
12 oz Tillen Farms Pickled Asparagus
12 oz Uncle Woody's Caramel Corn
24 oz Snoqualmie Falls Lodge Pancake and Waffle Mix
6.5 to 9 oz (depending on variety) Canterbury Naturals Soup Mix
0.85 oz MarketSpice Orange Cinnamon Tea
0.85 MarketSpice Northwest Breakfast Tea
24 oz Cucina Fresca Marinara
12 oz Partners Apple Cinnamon Granola
12 oz Pasta Mama's Fettuccine
12 oz Chukar Cherry Chocolate Covered Nut and Berry Assortment
Three Dilettante Biscotti - assorted flavors
Olympia Provisions saussison sec salame - made with pork (contact us to leave this out)
1.5 oz Chukar Dried Apple Slices
18 oz Fisher Scone Mix
10 oz dolcettini cookies
4 oz Partners Crackers
Tom Douglas Rub with Love gift pack (spice rubs for salmon, chicken and steak, 3.5 oz each)
7 oz Garvey's Butter Toffee Peanuts
6 oz Chukar Dried Cherry and Pistachio Mix
6 oz Cranberry Hazelnut Raincoast Crisps
Uncle Woody's Truffle Salt Popcorn
2.5 oz Skout Pumpkin Seeds
16 oz Tom Douglas Ancho Molasses BBQ Sauce
$200.00

–

$500.00
Select options