fruit
Showing all 2 results
View Cart
"Pike Place Market Basket" has been added to your cart.
Pike Place Market Basket
One of our best sellers with local foods, many available at or near Pike Place Market.
3.5 oz Tom Douglas Salmon Rub
10 tea bags of Marketspice Tea
4 oz Alaska Smokehouse Smoked Sockeye Wild Salmon
1.6 oz Fran's Gold Bar with Almonds
Moon Cheese
4 oz Partners Crackers
4 oz Uncle Woody's Caramel Corn
12 oz Boehm's Truffle Fudge Sauce
1.5 oz Chukar Dried Apple Slices
3.5 oz Biringer's Tea Cookies
2 oz Caffe Appassionato Coffee
8 oz The Bread Dip Company Olive and Herb Tapenade
2 Dilletante Biscotti- assorted flavors
6.5 oz Canterbury NaturalsChicken Noodle Soup Mix
1.85 oz Chukar Berry and Pistachio Mix
$100.00
Add to cart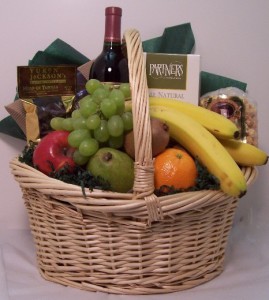 Large Fruit and Wine Gift Basket (Local Delivery Only)
A large basket filled with fresh fruit, wine and assorted Northwest gourmet foods. You are welcome to select any combination of food for this or any other basket.
Chateau Ste Michelle Indian Wells Cabernet Sauvignon or call to select a different wine
4 oz partners Crackers
2 oz Alaska Smokehouse Smoked Salmon Fillet
4 oz Yukon Jackson Chocolate Turtles
4 oz Uncle Woody's Caramel Corn
Assorted fresh fruit
Call or let us know in the "Order Notes" during checkout if you want us to customize the contents.
$100.00
Add to cart