Chateau Ste Michelle
Showing all 2 results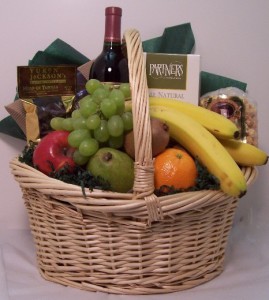 Large Fruit and Wine Gift Basket (Local Delivery Only)
A large basket filled with fresh fruit, wine and assorted Northwest gourmet foods. You are welcome to select any combination of food for this or any other basket.
Chateau Ste Michelle Indian Wells Cabernet Sauvignon or call to select a different wine
4 oz partners Crackers
2 oz Alaska Smokehouse Smoked Salmon Fillet
4 oz Yukon Jackson Chocolate Turtles
4 oz Uncle Woody's Caramel Corn
Assorted fresh fruit
Call or let us know in the "Order Notes" during checkout if you want us to customize the contents.
$100.00
Add to cart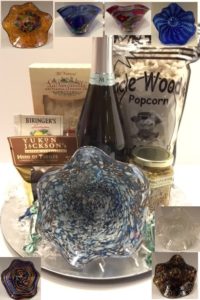 Sparkling Celebration Gift Basket
Give a festive gift from the Northwest. Choose a Glass Eye Studio bowl, handblown in Ballard. (Colors listed starting with the bowl in the main picture and then clockwise from the top.) This is available for local delivery in the Greater Seattle area. For something simliar to ship or for custom orders, please call us. Topped with  a silver or gold bow, depending on the bowl selected.
Your choice of Glass Eye Studio Bowl
Chateau Ste Michelle Sparkling Wine
Yukon Jackson Chocolate Turtles 4 oz
Biringer's Lemon Cookies 3.5 oz
La Panzanella Croccantini 5.3 oz
Uncle Woody's Truffle Salt Popcorn 4 oz (the savory kind of truffle!)
Artichoke and Caper Bread Dip and Tapenade 8 oz
four Seattle Chocolates Truffles
on a silver or gold charger, wrapped in cellophane and tied with a bow
$100.00
Select options