bamboo
Showing all 3 results
View Cart
"Large Slice of Washington" has been added to your cart.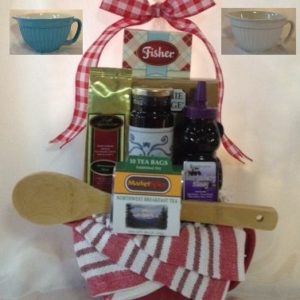 Breakfast in a Batter Bowl
A ceramic batter bowl, in your choice of color, filled with NW favorites for making breakfast or breakfast for dinner.
18 oz Fisher Scone Mix
24 oz Snoqualmie Falls Pancake and Waffle Mix
2 oz Caffe Apassionato Coffee
.85 oz MarketSpice NW Breakfast Tea (10 tea bags)
11 oz Maury Island Farms Blueberry Jam (not the honey pictured)
11 oz Maury Island Farms Marionberry Dream Topping
a Cotton Kitchen Towel (we will coordinate towel color with bowl color)
a Bamboo Spoon
a Ceramic Batter Bowl, choose red, white, or aqua
$70.00
Select options
Slice of Washington Gift
Our Slice of Washington gift features Washington made food on a bamboo cutting/serving board shaped like Washington State.
A larger version is also available.
.
approx 5 oz Beecher's Flagship Cheese (4.5 oz Kaserei Camembert for ground shipped gifts)
5.3 oz La Panzanella Croccantini Crackers
Uncle Woody's Truffle Salt Popcorn
4 oz Uncle Woody's Caramel Corn
4 oz Alaska Smokehouse Wild Sockeye Salmon
12 oz TillenFarms Pickled Asparagus
2.75 oz Chukar Chocolate Covered Dried Cherries
salmon-shaped cheese spreader
$75.00
Add to cart
Large Slice of Washington
We added a few more locally made foods to expand our Slice of Washginton gift. A
smaller version is available.
 Want to customize this with your corporate colors? Call us!
approx 5 oz Beecher's Flagship Cheese (4.5 oz Kaserei Camembert for ground shipped gifts)
5.3 oz La Panzanella Croccantini Crackers
1.5 oz Pop Gourmet Popcorn
4 oz Uncle Woody's Caramel Corn
4 oz Alaska Smokehouse Wild Sockeye Salmon
12 oz TillenFarms Pickled Asparagus
2.75 oz Chukar Chocolate Covered Dried Cherries
6 oz Chukar Triple Cherry Nut (dried cherries and nuts)
8 oz The Bread Dip Company Olive and HerbTapenade
4-2 oz Cougar Mountain cookies (chocolate chunk, ginger molasses, oatmeal raisin, lemon snickerdoodle) not the same as the cookies in the photo
salmon-shaped cheese spreader
$100.00
Add to cart