balsamic vinegar. pasta mama's pasta. marinara
Showing all 2 results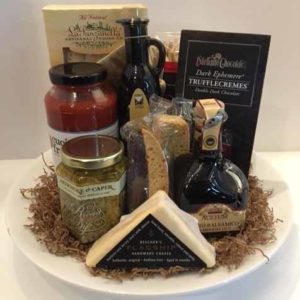 Pasta Bowl Gift Basket
Part Italian, the rest made in the Northwest, this is a gift basket filled with mouth watering food. Call to customize this with a bottle of wine. Due to all of the glass and the ceramic bowl, this is for local delivery only. Please contact us if you want to ship a similar gift.
Beecher's Flagship Cheese (approx 4-6 oz)
The Bread Dip Company Artichoke and Caper Bread Dip and Tapenade 8 oz
Acetum Balsamic Vinegar 8.5 oz
Colli Etruschi Extra Virgin Olive Oil 250 ml
Cucina Fresca Marinara 24 oz
Pasta Mama's Fettucine 12 oz
Dilettante Ephemere Truffle Cremes 5 oz
2 Dilettante Biscotti
La Panzanella Croccantini (crackers) 5.3 oz
Omniware Ceramic 12 inch Pasta Bowl
wrapped in cellophane and and tied with a bow
$100.00
Add to cart
Family Gathering Gift
A beautiful embossed copper container filled with both sweet and savory gourmet food.
10 oz La Panzanella Dolcetini Cookies
4.5 oz Macy's Asiago and Cheddar Cheese Crisps
1.5 oz  Chukar Dried Apple Slices
18 oz Fisher Scone Mix
2 CBs Pumpkin Seeds
7.5 oz Chukar Chocolate Covered Dried Cherries
11 oz Maury Island Farms Marrionberry Preserves
4.4 oz Barnier French Country Olives
4 oz Yukon Jackson Chocolate Turtles
6 oz La Panzanella Croccantini Crackers
6.5 Canterbury Naturals Chicken Noodle Soup Mix
4.5 oz Kaserei Champignon Camembert Cheese
4 oz Partner's crackers
4 oz Uncle Woody's Caramel Corn
12 oz Partners Apple Cinnamon Granola
24 oz Cucina Fresca Marinara
12 oz Pasta Mama's Fettuccine
wrapped in cellophane and topped with a bow-shown with a fall colored bow. Please let us know your preferred bow color.
$150.00
Add to cart