artichoke
Showing all 3 results
View Cart
"Northwest Gourmet Pantry Shipper (includes Free Shipping!)" has been added to your cart.
Northwest Gourmet Pantry Shipper (includes Free Shipping!)
Give the experience of tasting a variety of Northwest specialty products. A delicious assortment of sauces, rubs, ingredients, and accompaniments to take meals to a new level. Price includes 2-3 day shipping anywhere in the US.
3.5 oz Tom Douglas Rub With Love Salmon Rub
8 oz The Bread Dip Company Artichoke and Caper Tapenade
13.5 oz Umami 33 Sweet and Spicy Grill Sauce
9 oz Boat Street Pickled Figs
12 oz Mama Lil's Peppers
Ships in a USPS flat rate box with red tissue and a red bow, or let us know your preferred colors. Call us for this combination in a basket or for local delivery.
$62.00
Add to cart
Northwest Picnic Basket
This is the gift of many picnics to come, starting with a selection of Northwest gourmet specialties. Picnic Time brand hamper is outfitted for two with ceramic plates, ceramic mugs, forks, knives, spoons, corkscrew, salt and pepper shakers. Prefer different food items, a bottle of wine or need a larger hamper? Just give us a call. To ship, we close the basket and tie a bow around the hamper. For local deliveries, we wrap the basket, as shown, in cello and top with a bow. Please let us know the occasion so the bow is appropriate.
Alaska Smokehouse Smoked Sockeye Salmon 4 oz
Cougar Mountain Cookies 2 oz (not the cookies shown in picture)
The Bread Dip Company Artichoke and Caper Bread Dip (tapenade) 8 oz
Raincoast Crisps Cranberry and Hazelnut Cranberry Crackers  6 oz
Chukar Triple Cherry Nut Mix 6 oz (dried cherries, almonds and pistachios with no sugar added) 6 oz
La Panzanella Multigrain Croccantini 6 oz
Beechers Flagship Cheese approximately 4-6 oz
$100.00
Add to cart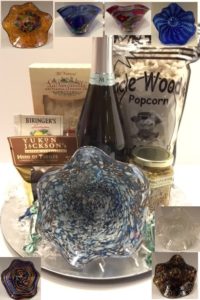 Sparkling Celebration Gift Basket
Give a festive gift from the Northwest. Choose a Glass Eye Studio bowl, handblown in Ballard. (Colors listed starting with the bowl in the main picture and then clockwise from the top.) This is available for local delivery in the Greater Seattle area. For something simliar to ship or for custom orders, please call us. Topped with  a silver or gold bow, depending on the bowl selected.
Your choice of Glass Eye Studio Bowl
Chateau Ste Michelle Sparkling Wine
Yukon Jackson Chocolate Turtles 4 oz
Biringer's Lemon Cookies 3.5 oz
La Panzanella Croccantini 5.3 oz
Uncle Woody's Truffle Salt Popcorn 4 oz (the savory kind of truffle!)
Artichoke and Caper Bread Dip and Tapenade 8 oz
four Seattle Chocolates Truffles
on a silver or gold charger, wrapped in cellophane and tied with a bow
$100.00
Select options