Sympathy
Showing 26–27 of 27 results
View Cart
"Northwest Vegan Shipper (free shipping)" has been added to your cart.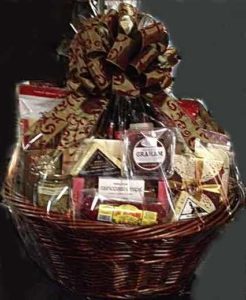 Best of the Northwest Gift Basket
The best of the Northwest: a gift so large it fills an enormous basket. The following list is what we can include in a $350 size basket. Please conatct us to customize the gift to your needs. You can choose the bow colors and style, as well as the specific food contents.
One pound Alaska Smokehouse Wild Sockeye Smoked Salmon
5 oz (approximate) Beecher's Flagship Cheese
10 oz box Dilettante Ephemere Truffles
5.3 oz La Panzanella Croccantini Crackers
12 oz Boehm's Truffle Fudge Sauce
9 oz Boat Street Pickled Figs
11 oz Maury Island Farms Marionberry Jam
Half pound of Caffe Appassionato Organic Coffee
8 oz The Bread Dip Company Artichoke and Caper Tapenade
6 oz gift box of Fran's Salted Caramels
12 oz Tillen Farms Pickled Asparagus
12 oz Uncle Woody's Caramel Corn
24 oz Snoqualmie Falls Lodge Pancake and Waffle Mix
6.5 to 9 oz (depending on variety) Canterbury Naturals Soup Mix
0.85 oz MarketSpice Orange Cinnamon Tea
0.85 MarketSpice Northwest Breakfast Tea
24 oz Cucina Fresca Marinara
12 oz Partners Apple Cinnamon Granola
12 oz Pasta Mama's Fettuccine
12 oz Chukar Cherry Chocolate Covered Nut and Berry Assortment
Three Dilettante Biscotti - assorted flavors
Olympia Provisions saussison sec salame - made with pork (contact us to leave this out)
1.5 oz Chukar Dried Apple Slices
18 oz Fisher Scone Mix
10 oz dolcettini cookies
4 oz Partners Crackers
Tom Douglas Rub with Love gift pack (spice rubs for salmon, chicken and steak, 3.5 oz each)
7 oz Garvey's Butter Toffee Peanuts
6 oz Chukar Dried Cherry and Pistachio Mix
6 oz Cranberry Hazelnut Raincoast Crisps
Uncle Woody's Truffle Salt Popcorn
2.5 oz Skout Pumpkin Seeds
16 oz Tom Douglas Ancho Molasses BBQ Sauce
$200.00

–

$500.00
Select options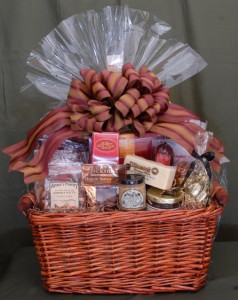 Super Deluxe All Occasion Gift Basket
A large gift basket, filled with enough food for an office or family. We can customize the bow colors and contents to suit your needs. Shown is an fall colored bow.
12 oz Chukar Chocoloate Covered Fruit and Nut Sampler Box
12 oz Uncle Woody's Caramel Corn
Blue Orchard Smackers Blueberry Nut Clusters
10 oz La Panzanella Dolcetini Cookies
4 oz Yukon Jackson Chocolate Turtles
10 oz Dilettante Ephemere Truffle Cremes
16 oz Quinn's Salsa
approx. 5 oz Beecher's Flagship Cheese
15 oz Juanita's Tortilla Chips
8 oz Nunes Farms Mixed Nuts
3 Sisters All Beef Pepperoni
8 oz Alaska Smokehouse Wild Smoked Sockeye Salmon
5 oz La Panzanella Croccantini Crackers
7.2 oz Snack Factory Pretzel Crisps
1.5 oz Chukar Dried Apple Slices
$200.00
Add to cart